---
Faith's Personalized Tshirts
Vagina Warrior Ladies Charcoals Racerback ~ $20
Spiritually Fly Ladies White Flowy Tee ~ $25
Sizes ~ Small – XLarge
Purchase Today
---
Spiritually Fly Mala
Designed by Faith in partnership with Bali Malas ~ $112
Muse: spiritually fly is a philosophy that celebrates every moment of life, yoga, music, breath, flow. Free-spirited, grounded and spiritually fly.
​Mantra: be YOU in your most divine way
Gemstone: lavender amethyst, quartz crystal, 22K gold accents on a soft wheat colored thread.
Specifications: 108 sacred rudraksha beads soft lavender amethyst, quartz crystal and sparkling 22k gold accents.
---
East West Prism Necklace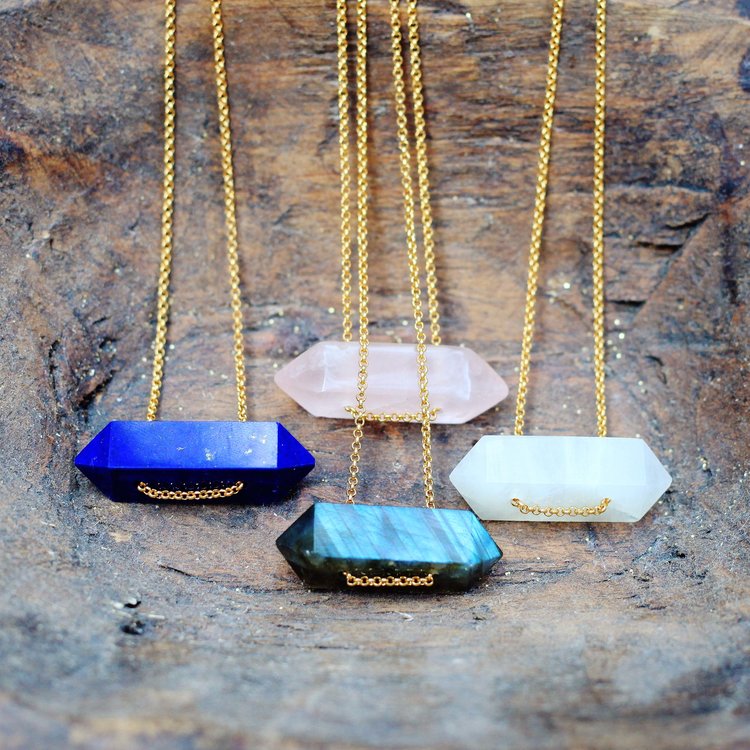 Prism gemstone necklace by Asha Patel Design. Use promo code FAITH to receive 15% off this necklace or anything on the site.
Labradorite provides clarity, intuition and inner strength. It is, in every sense, a stone of magic, a crystal of shamans, diviners, healers, and all who travel and embrace the universe seeking knowledge and guidance.
Lapis lazuli quickly releases stress, bringing deep peace and serenity. It encourages taking charge of life and allows self-expression without holding back
Moonstone is known as the lovers stone and also provides hope and balance. The powers are deeply linked to the moon itself, focusing on love, fertility, good fortune and protection during dark times. It was the stone of the goddess Diana.
Rose quartz is known for it's ability to open the heart, enhance creativity and heal emotional wounds. It is considered to be a lovers stone and believed to be beneficial to the circulatory system and aids in relieving anxiety.
SPECIFICS: Gemstone pendant measures approximately 36 mm x 10 mm on gold plated brass chain. Total necklace length 16″. As with all things in nature, gemstones vary from stone to stone. For custom lengths or sterling silver chain, please contact Asha Patel Designs.
---
HARLEM Heather Grey Boyfriend Sweatshirt [French Terry Fleece]
In honor of SoulFest and in collaboration with the non-profit Three and a Half Acres we created a limited edition custom HARLEM printed classic crew neck sweatshirt, retro fit in the most delicious French Terry Fleece. Then added a few feminine details of course. A wider neckline and a longer cuff, and ribbing detail are just pretty enough to make it yours.
20% of proceeds will be donated to Three and a Half Acres to help provide regular and holistic yoga instruction to the following branches of the Harlem community:
LGBT youth of Harlem United—a nonprofit providing access to quality HIV/AIDS care for all, regardless of race, socioeconomic status, or sexual orientation.
Members of the NYPD, who police the central Harlem community.
Only available during the SoulFest NYC in June!
---