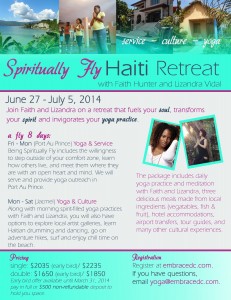 Spiritually Fly: Service, Culture and Yoga Retreat in Haiti 
June 27-July 5, 2014 with Faith Hunter and Lizandra Vidal
Join Faith and Lizandra on a retreat that fuels you
r soul, transforms your spirit and invigorates your yoga practice. Faith is an internationally known and inspiring instructor who incorporates her Louisiana upbringing, yoga philosophy, modern mystical sounds, and the purity of breath into classes that awaken and ignite body and spirit. Lizandra lives and teaches yoga in Haiti full time and teaches compassionate embodiment of living your yoga in action. Faith and Lizandra together will lead you through a life-changing week of seva (selfless service), culture and yoga in Haiti.
Why Haiti? Faith is leading a yoga retreat in Haiti because she believes in the power of hope and transformation for healing and empowerment. She also believes in thinking outside of the box and breaking down cultural barriers that limit our potential. Inspired by the work of Lizandra Vidal and Project Zen Empowerment, Faith is taking the leap and leading the first international yoga retreat in Haiti. The country offers an unparalleled combination of vibrant culture and opportunities for seva with breathtaking landscapes and beaches as the backdrop. Haiti is actively reviving a once strong tourism industry and Faith loves a heart-filled and spiritually fly adventure. Faith and Lizandra invite you to come share in this passionate adventure of seva, culture and yoga.
A Fly 8 Days:  You will arrive on a Friday and spend the weekend in Port Au Prince, learning about life in the capital city and participating in outreach yoga sessions and community service. Each day will start with a delicious breakfast, a yoga practice and cultural education and exchange. The afternoons will be for outreach yoga and exploring Port Au Prince as a group. This part of the trip is about service and experience. Being Spiritually Fly includes the willingness to step outside of your comfort zone, learn how others live, and meet them where they are with an open heart and mind.
June 27 – July 5, 2014, Friday-Sunday in Port Au Prince at  http://hotelvillatherese.com/home/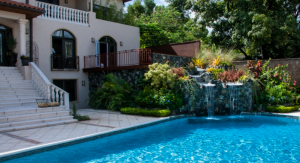 On Monday morning we will drive to the picturesque town of Jacmel for 5 days of Spiritually Fly Yoga and cultural experiences on the southern coast of Haiti. In addition to spirit-filled yoga practices with Faith and local Haitians, you will also have options to explore local artist galleries, learn Haitian drumming and dancing, go on adventure hikes, surf and enjoy chill time on the beach.
June 24-28, Monday-Saturday in Jacmel: La Colline Enchantee (Eco-hotel) — click the image to watch a video of this lovely and intimate eco-hotel.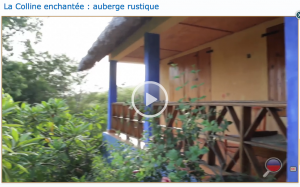 About Faith:  Faith is loved locally and internationally as a warm and accessible yoga teacher who inspires you to open your heart and be yourself. She has appeared on the cover of Yoga Journal twice, and inside the pages many of international magazines. Faith has been called "spiritually hip and fly" because of her dynamic, transformational spirit and soulful, contemporary approach to yoga. She invites her students to embrace the flow of their own bodies and use that flow as a divine instrument to spread love.
About Lizandra:  Lizandra has been called, "the best yoga teacher in Haiti". This makes her smile in appreciation of recognition of her work sharing the practice of yoga in Haiti. Lizandra is passionate about embodied and authentic living on and off the mat. She shares a practice that encourages students to cultivate self-awareness, build strength and focus to connect to inner truths that can guide an embodied and authentic life.
Retreat Details: You will be fed delicious fresh local ingredients that include fish, vegetables, fruit, and everything else you want to eat. Your registration includes 3 meals a day, and we will accommodate all nutritional needs to the best of our ability. All prices include taxes, meals, in-country transportation, and full-time travel guides: Double occupancy (sharing a room with someone) is $1850. Single occupancy $2,235. Roundtrip airfare is not included.
Early Birds (save $200): $1650 (double occupancy) or $2035 (single occupancy) by March 31, 2014.
Registration:  Limited space available. A $500 non-refundable deposit  is required to hold your space. Your final, non-refundable payment will be due May 3, 2014.