---
Free Your Soul: Yoga Principles for Embracing Your Unique Flow in Life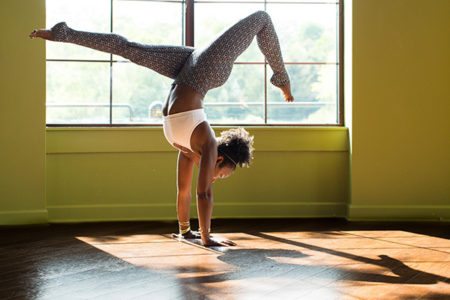 1440 Multiversity, July 7 – 9, 2017
Friday-Sunday: 2 nights ~ $295 + All inclusive Accommodations
Do you set goals but never seem to achieve them? Do you feel empty and know something is missing? Are you
ready to make a shift but aren't sure how to take the first step? Our lives are filled with a million experiences that create suffering, confusion, pain, and static behavior. As a result, our lives become chaotic, and we are unable to reconnect to our true brilliance.
This weekend, Faith Hunter will share her Spiritually Fly™ life sutras and the principles in them can help you break free and live the life you desire. Through yoga asana, meditation, mantras, journaling, and soul circles, you will begin the personal process of letting go of limiting thoughts and negative feelings.
In this soul-supportive experience you will learn:
Soul-circle practices to ground your energy, ignite your inner fire, build loving trust, and set you free
How to cultivate the courage to face your fears with bravery and compassion
Meditation and journaling to unlock your true divine self and ignite your Spiritually Fly soul.
You will dig deep, dial into your inner wisdom, and free your soul! And you'll walk away with personalized practices to use on and off the mat that will guide you through life's difficult moments.
Register at 1440 Multiversity!
---
Mindfulness Week at Capofaro
Salina, Italy (Aeolian Islands), Oct 1 – 8th
The yoga mantra om is a synthesis of syllables representing mind, body and spirit. Aligning with ourselves, with each other, and with the universe. Between the sea, the sun, and the whispering windswept Malvasia vineyards, Capofaro validates both oneness and harmony – a place of om. Situated on Salina, one of seven volcanic sister islands that make up the Aeolian archipelago, Capofaro embraces the bespoke tranquility and peace inherent to this place while encompassing the unique energy of didyme, the native word describing the island's impressive aura.
Immerse yourself in a journey tied to nature, flavors, and wine. A story is told through a symphony of local products and territorial tradition; culinary dishes are exalted by the kitchen gardens that outline the fresh water pool. Chef Ludovico de Vivo curates delicate, ingredient driven cuisine drawing gastronomic inspiration from the deep blue seas and lush agriculture of Salina. Wellness and solitude radiate from the massage area to the panoramic terrace, a sense of freedom and connection with nature in an uninterrupted horizon. Om permeates Capofaro, rippling through the emerald vineyards and reminding you to embrace the moment.
Register at Capofaro!
---
Les Bohemes Healthfulness Retreat
Zanzibar, Africa, October 23 – 30
Imagine yourself on a magical island starting your day with fresh coconut water and sweet locally picked fruits. Collecting your thoughts on the veranda of your private cottage in the lush green hills. Swimming under the warm mineral waterfalls, after your hike through a botanical terrain, breathing the refreshing scent of the tropical trees and flowers. Cooking with the finest chefs amongst the melodic sounds of exotic birds and streams. And watching the pink sun set whilst stretching into your last yoga position of the day. That's the Heathfulness Retreat in Zanzibar!!!

Zanzibar is located in the Indian Ocean, about 25 miles from the Tanzanian coast. Zanzibar Island (known locally as Unguja, but as Zanzibar internationally) is 60 miles long and 20 miles wide, It is characterised by beautiful sandy beaches with fringing coral reefs, and the magic of historic Stone Town – said to be the only functioning ancient town in East Africa.
PACKAGE COSTS: *$1679 PER PERSON SHARING * $2169 SINGLE OCCUPANCY.
Register at Les Bohemes!
---
NYE – Kripalu – more details coming soon
December 29 – 31, 2017