---

Celebrate Your Fierce Inner Goddess
Kripalu Center, December 29, 2017 – Jan 1, 2018
For all women.
Release the blocks, cultivate inner strength, and celebrate your unique qualities. This program is your opportunity to peel back the layers and awaken your fierce inner goddess. Journey into the depths of the feminine and learn to access your sacred center in every aspect of your life as you.
Open the doorway to your "womb wisdom" and create a pathway to healing through listening and self-awareness.
Recharge your bright light through asana, kriyas, meditation, mudras, chanting, and journaling.
Learn practices and establish your daily rituals (SoulPrints) for nurturing your body, mind, and soul.
Bask in the spirit of sisterhood along with other women on the path of honoring the feminine.
This is your time to move, release, reset, and step into the New Year like the amazing goddess you are.
Note: Bring a favorite journal, a personal item infused with love for the goddess altar, and an open heart.
Register at Kripalu!
---
Les Bohemes Healthfulness Retreat
Zanzibar, Africa, October 2018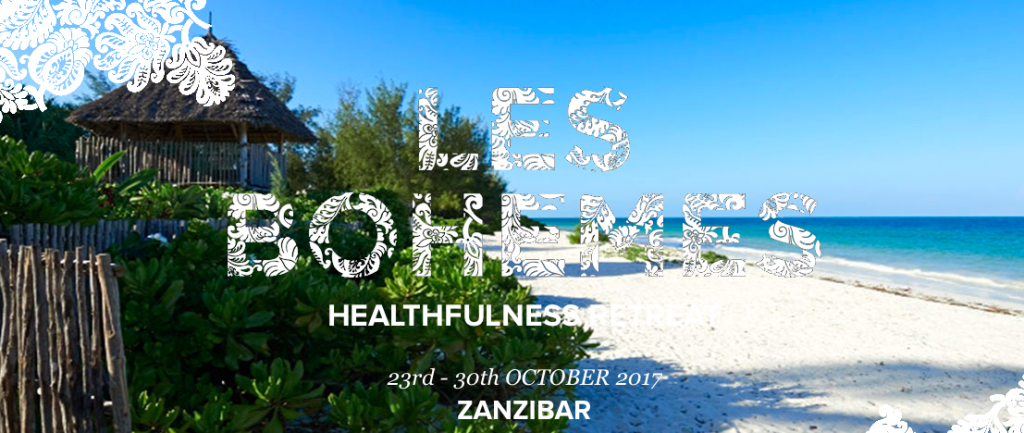 Imagine yourself on a magical island starting your day with fresh coconut water and sweet locally picked fruits. Collecting your thoughts on the veranda of your private cottage in the lush green hills. Swimming under the warm mineral waterfalls, after your hike through a botanical terrain, breathing the refreshing scent of the tropical trees and flowers. Cooking with the finest chefs amongst the melodic sounds of exotic birds and streams. And watching the pink sun set whilst stretching into your last yoga position of the day. That's the Healthfulness Retreat in Zanzibar!!!

Zanzibar is located in the Indian Ocean, about 25 miles from the Tanzanian coast. Zanzibar Island (known locally as Unguja, but as Zanzibar internationally) is 60 miles long and 20 miles wide, It is characterized by beautiful sandy beaches with fringing coral reefs, and the magic of historic Stone Town – said to be the only functioning ancient town in East Africa.
PACKAGE COSTS: *$1679 PER PERSON SHARING * $2169 SINGLE OCCUPANCY.
Register at Les Bohemes!